Aziz: My story with Jinhua
Name:
Aziz Ullah
Chinese Name:
阿兹兹
Nationality:
Afghan
Age: 40
国籍:阿富汗
年龄:40岁
Coming to Yiwu with two dreams

怀揣两大梦想到义乌

Eighteen years ago, the freshly graduated Aziz Ullah came to Yiwu with a couple of his friends, carrying with him $1500 and dreams of buying a car and opening a foreign trade company.
---
18年前,刚从大学毕业的阿兹兹带着1500美金和"买一辆车" "开一家外贸公司" 的梦想,跟几个朋友到义乌闯荡。
At the beginning, Aziz was constantly worried about getting lost when he went out. He only dared to leave his residence if he stayed within a 100-meter range during his early days in Yiwu. A friend gave him a note with his own address on it in case he got lost. He kept the note in his pocket at all times. Not knowing Chinese, Aziz could only communicate with people in English and body language. But after a year of hard study, he could approach business negotiations in Chinese.
---
刚开始,阿兹兹外出总会害怕迷路,第一天只敢离开住处100米,中国朋友给他一张写有地址的纸条,他时刻放在兜里。因为不懂中文,做生意时,阿兹兹只能靠英语和肢体语言跟人交流。经过努力学习,一年后,他基本可以正常接洽生意。
Other than language and transportation, the most difficult problem was organizing three daily meals. In fact, Aziz was not able to find a halal restaurant, so he had to buy groceries and cook for himself.
---
除了语言和交通,最难解决的是一日三餐。因为找不到清真餐厅,阿兹兹只能自己买菜做饭。
Aziz's life in Yiwu has been constantly improving as his business has continued to grow. In 2005, he registered Yiwu Faxun Trading Company, and his business started to cover Afghanistan, Saudi Arabia, Russia, and other places. His first dream was realized.
---
阿兹兹在义乌的生活过得越来越顺,生意也开始有起色。2005年,他注册了义乌市法勋贸易商行,业务也慢慢覆盖了阿富汗、沙特、俄罗斯等地,他的第一个梦想实现了。
As his business grew, Aziz bought a small car three years later, finally realizing his second dream. He also moved his office to Futian Commercial District, where the popular Yiwu Market is.
---
随着生意越来越火,3年后,阿兹兹买了一辆小汽车,实现了第二个梦想,还把办公室搬到了风靡海内外的义乌商贸城所在地——福田商圈。
Only with Yiwu's improvement can I improve
义乌变好了,我才能变得更好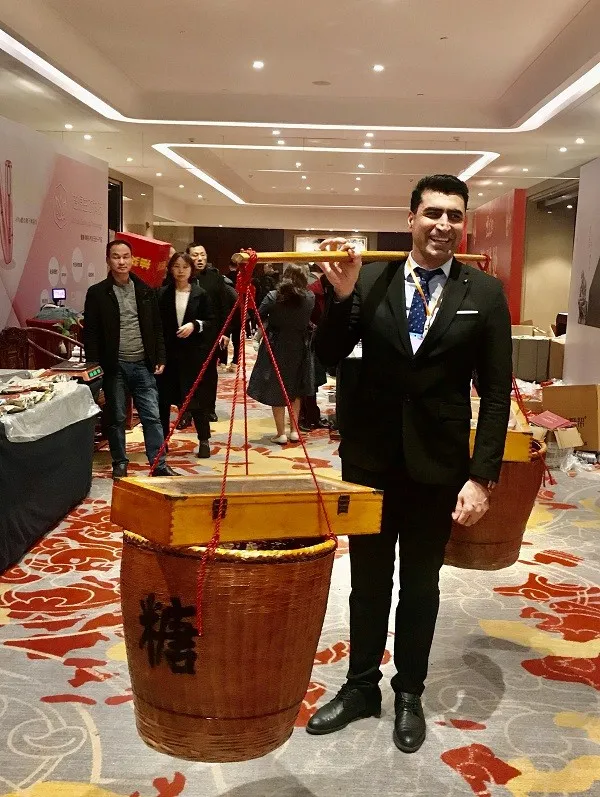 In August 2016, the launch of the Yiwu-Afghanistan railway greatly helped Yiwu and Afghanistan achieve closer economic cooperation.
---
2016年8月,开往阿富汗马扎里沙里夫的中亚班列(义乌—阿富汗)正式从义乌首发启程,极大助力义乌和阿富汗经济实现更深度紧密的合作。
After the opening of the Yiwu-Afghanistan railway, it took only two weeks for goods to reach Afghanistan by train, and the transport cost was significantly reduced. As a result, Aziz's trading company entered a period of rapid development.
---
义乌开往阿富汗的班列开通后,铁路运输只要两周,性价比明显提高,阿兹兹的贸易公司因此进入了快速发展期。
According to Aziz, the establishment of the Belt and Road Initiative has brought unexpected changes to his trading company. At first, he only did export trade to Afghanistan, Pakistan and Russia. Now, he purchases 200 to 400 containers of goods every year and exports Yiwu's goods to eight countries, including the United Kingdom, Germany, the Netherlands and the United States.
---
阿兹兹觉得,"一带一路" 建设给他的法勋贸易公司带来了意想不到的变化。原先他只做阿富汗、巴基斯坦、俄罗斯3个国家的出口贸易;如今,他每年采购200~400个集装箱的货物,将义乌的商品卖到英国、德国、荷兰、美国等8个国家。
Over 18 years, Aziz's revenue increased from zero to 10,000 yuan ($2100) a day, and now stands at 100,000 yuan a day. He claims that his company's growth is directly connected to the growth of Yiwu. During these years, the city has also undergone earth-shaking changes, including drastic improvement in living conditions and the business environment. "I am growing up together with Yiwu. Without Yiwu, I wouldn't be where I am now. Only with Yiwu's improvement can I improve."
---
18年来,阿兹兹从0到每天挣1万元,再到现在日入10万元。他说,自己公司的每一步成长都离不开义乌。其间,义乌这个城市也发生了天翻地覆的变化,生活环境和经商氛围逐渐改善。"我跟着义乌一起长大,如果没有义乌,就没有今天的我,只有义乌变好了,我才能变得更好。"
In 2017, Aziz contributed 50,000 yuan to the greening of the Dachen riverside — a project of the Five-Water Management scheme — and joined the local community in protecting its water resources and promoting related activities. In 2018, he purchased 100 blankets and sent them to nursing homes to help the elderly keep warm. In his daily life, Aziz also often acts as a mediator to help resolve trade disputes between foreign and local businesspeople.
---
2017年,阿兹兹捐出5万元用于义乌市大陈镇江沿线绿化,助力"五水共治",并加入当地护水队,向身边人传递护水知识。2018年,他采购了100条毛毯送到敬老院,去温暖老人。日常生活中,阿兹兹还时常化身外籍调解员,帮助解决外商和义乌商人之间的贸易纠纷。
In 2018, the Yiwu municipal government awarded Aziz the fourth Mall Friendship Award in recognition of his recent contributions to local development.
---
2018年,义乌市政府授予阿兹兹第四届"商城友谊奖",以表彰他近年来对当地发展做出的贡献。
Continuing to chase dreams
追梦的脚步不停歇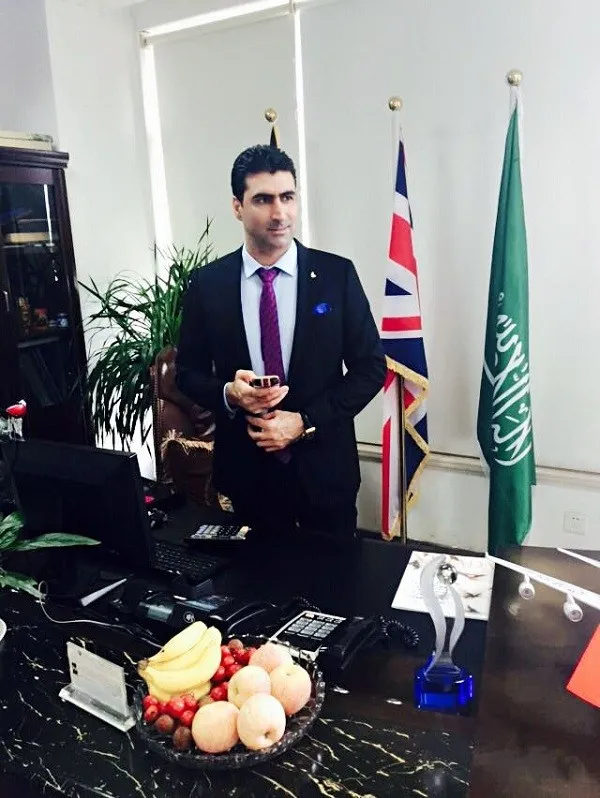 Having lived in Yiwu for 18 years, Aziz has not only become a well-known, but also an authentic Yiwu resident. He brought his wife and three children to live with him in Yiwu.
---
在义乌生活了18年,阿兹兹不仅成了一个圈内闻名的商人,更成了一个地道的"新义乌人",他还把妻子和3个孩子接到义乌一起生活。
Because of work, Aziz often travels all over the world. He has been to 25 countries, but every time he leaves, he misses Yiwu a lot. In Yiwu, he learned the entrepreneurial and business spirit of Yiwu's people and realized his dreams step by step.
---
因为工作需要,阿兹兹经常要去世界各地出差,曾去过25个国家,每次出门在外,最想念的还是义乌这个"家"。在这里,他学会了义乌人的创业经商精神,一步步实现了自己的愿望。
Yiwu is still growing and developing, and Aziz will continue to chase his dreams. In September, Aziz registered a new company, planning to use the China Railway Express to import Afghan handmade carpets, dried fruit, saffron and other specialties to China. Through this venture, the Chinese can learn more about Afghan culture.
---
义乌还在前进,阿兹兹也没有停下追梦的脚步。9月,阿兹兹又注册了一家新公司,他想借助中欧班列,将阿富汗的手工地毯、干果、藏红花等特色产品进口到中国,让中国人也通过这些产品,了解阿富汗。
(Text and photo by Wu Yueyue, translated by Marco Lovisetto, edited by Kendra Fiddler. Additional pictures provided by Aziz Ullah)
本文为节选
---
编辑:龚俊
审核:刘秀红、秦继蓉
监制:施力维